When you're going to a big mall or to a place recreation family has extensive parking, sometimes you forget where you parked your car. But now you don't have to worry about these things, because the iPhone can facilitate you to find your car with advanced features and also via the Maps app, especially if you use the iPhone SE. Now we will show how to mark your location on iPhone SE so you will not forget again the location where you park your car.
Step by Step to Mark Your Location on iPhone SE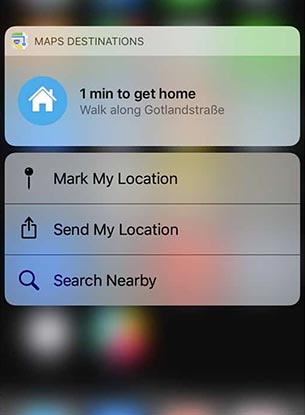 If you want to mark your location on iPhone SE, follow the steps.
Turn on your iPhone.
Search Maps icon on your Home Screen.
3D Touch (hit hard) Maps icon.
Select the "Mark my location".
When you've done at these steps, the application will automatically open maps and input pin when the GPS coordinates of your location, without the hassle of having to open the application and drop a pin on your location. If you are using a mobile phone other than the iPhone and use the phone too long, you can also do this manually. Ways to do this :
Open the Maps app -> then tap the arrow in the bottom left corner to focus on your current location -> Tap the info button in the lower right corner -> then select "Drop Pin" to mark your current location.
Finding and removing your marked location
To find your location marked, follow these steps:
Open the Maps application.
Select the up button on the top toolbar (arrow to the left of the search field) then tap the search field.
Select the current location to begin.
For the final location, tap Favorites and then select the pins you've dropped.
Press the "Route" and you will be given directions to the pin dropped.
if you may want to delete the location you've marked on the list , you can follow these steps :
Click on the Pin Down Favorites list if necessary, then tap the pin description directly from the map.
Select "Delete Pin" from the list of option.