iPhone user guide is very important since it will give you some information and also guides to use iPhone device. In case you are a new user of the Apple iPhone SE or someone who has always used it, you may always find it necessary to look for a user guide. Here, we provide you all sorts of information about the iPhone SE that you have. This Apple iPhone SE user guide has specifically designed to help you understand the functions and features of your iPhone. Include a setup guide, expansion, tips, experiences and troubleshooting information.
Download Apple iPhone SE User Guide
iPhone SE manual handbook contains instructions and explanations on everything from setting up the device for the first time for users who still didn't understand the basic function of the phone. If you're looking for an instructions manual for iPhone SE, this is it. This iPhone SE manual for beginners and senior is an officially pdf file from Apple Inc.
NOTE: For open or reading this iPhone instruction manual in PDF, your computer required Adobe Reader Apps. You can get the Adobe Reader for free by going here https://get.adobe.com/reader/.
How to Get iPhone SE Owners Manual iOS 13.5 and Save it into Your Device
Apple gives its official iPhone SE user manual available for free in digital formats. After you download it, you can view it at any time even if your iPhone isn't connected to the internet. Here's how to download it.
Follow the corresponding section to the free iBook user manual for iPhone SE HERE.
You can get the free iBook user guide on your iPhone.
After clicking the link before, follow the prompts to download the free iPhone SE instructions with iBooks.
Tap Open on your iPhone to pull up the iPhone SE owners manual in iBooks. Next tap Get, you may need to enter your Apple ID and password. Once the user manual is downloaded to your device, you can select Read as shown above.
On your iPhone, after the user manual is downloaded into your iBooks, it should automatically open, tap Read one more time.
Don't forget to tap the screen in iBooks to show the menus to view at the table of contents, change fonts, and search the user guide. See for the magnifying glass in the upper right corner to explore.
All About Apple iPhone SE
iPhone SE 2020 is a smartphone designed and marketed by Apple Inc. contained in the iPhone line of devices. The device has been launched on April 15, 2020 and will be available on Friday, April 24, in the US and more than 40 other countries and regions. Apple has launched the fourteenth-generation of their device called iPhone 12 series,  on October 13, 2020. If you already have, you can download user guide for iPhone 12 series here.
iPhone SE Key Specs and Feature
The iPhone SE has a 4.7 inch display with 1,334×750 pixels, resulting in a pixel density of 326ppi , the device also features Retina HD display. The new iPhone SE is powered by the Apple-designed A13 Bionic, the fastest chip in a smartphone, to handle the most demanding tasks.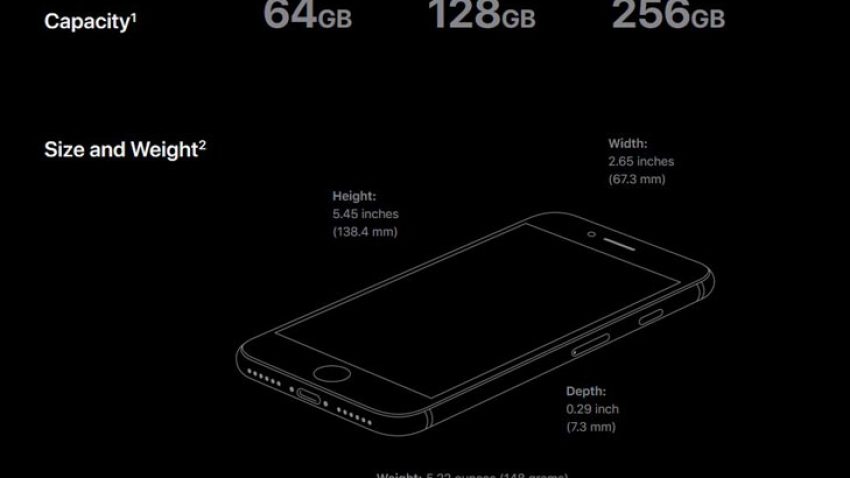 The new iPhone SE will have a 12-megapixel f/1.8 aperture Wide camera, and will be able to take Live Photos, short videos that are captured with every photo snap. Next-generation Smart HDR comes to iPhone SE, intelligently re-lighting recognized subjects in a frame for more natural-looking images with stunning highlight and shadow details.  Here the key specs of iPhone SE:
CPU: A13 Bionic
Storage: 64GB, 128GB, 256GB
Display: 4.7 inches (1334 x 750)
Rear camera: 12MP (f/1.8)
Front camera: 7MP (f/2.2)
Video recording: 4K video up to 60 fps
Water resistance: IP67
Battery life: Up to 13 hours video playback
Wireless charging: Yes (Qi)
Fast charging: Yes via optional 18W adapter
Size: 5.45 x 2.65 x 0.29 inches
iPhone SE is available to pre-order on apple.com and the Apple Store app beginning at 5 a.m. PDT on Friday, April 17, and will be available from Apple, Apple Authorized Resellers and select carriers on Friday, April 24, in the US and more than 40 other countries and regions.
iPhone SE User Manual on iBooks and Web
This iPhone SE Owners Manual also available for download with iBooks on your Mac or iOS device, and with iTunes on your computer. Books can be reading with iBooks apps on your Mac or iOS device.
Download this manual Here and open with your iTunes apps. Download iTunes apps for free by going HERE. If you can't open in iBooks, you can going to web based iPhone SE user manual, follow this link below:
Tips and tricks for your new iPhone SE can be learn by going our pages here.